This is an aluminium and steel bonnet from a Series 2A Land Rover, it is remarkably solid for something that has been around for over 50 years and spent most of that out in the open, the construction is a sheet of aluminium formed into a curve and stiffened with steel channel sections on the underside that are riveted through the sheet with bolt on gate type hinges.
As you can see from the pictures below which show underside of the bonnet before we started, the steel sections are quite rusty with the odd trace of grey paint, in some cases the steel was painted black and the aluminium was left bare.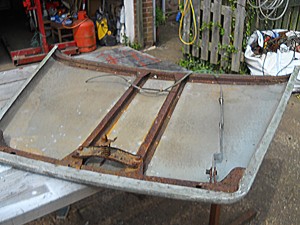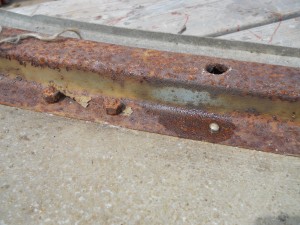 The hinges, stay and bonnet catch were removed and the under side cleaned up really well though there was a couple of bits that needed welding, the bracket for the bonnet stay was cracked and there was a couple of pin holes where water had been trapped inside.
The outer condition was quite reasonable once it had a good scrub with a scouring pad to remove some of the grime, the hinge bolt holes were taped over while the underside was painted.
The cleaned up steel was treated to a coat of Hammerite red oxide, once dry it was turned over and the top side cleaned ready for painting, some loose unstable paint was removed and all carefully sanded, at this point it would be ready to go to a spray shop for a professional pant finish though in this case it is being finished with good quality coach paint on a roller.
This bonnet took around 6 hours work to get to this stage, with roller painting and cleaning / powder coating the bonnet catch etc will cost about £50 (no Vat) plus paint.         If we can help you with any work of this type please contact us.