A bit about Skeff

Skeff worked at Spencer's Garage Burringham (nr Scunthorpe England) for over 40 years carrying anything from minor repairs and Mot testing to major mechanical overhauls of cars, lorries, agricultural and earth moving machinery, speaking as a son, he was the best Dad anyone could ever wish for, he learned me so much in his quite way, from the engineering side of things he passed on so much about  the easy ways to do things, and also the safe ways, I feel it is only right that I pass as much as possible on to other people.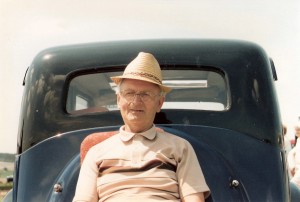 In later years he spent his retirement attending steam engine rallys with his Morris 1000 and old Daimler until his death very suddenly in August of 2000 while on his way to the Lincolnshire Steam Rally. 
Skeff's Wife Rene
Mrs I M Lockwood  1927 to 2009
Skeff married Irene Known as Rene to most of her many friends, Rene lived in the village of West Butterwick with her Dad Mr Walter Kirk, after a courtship assisted by the use of his employers WWII Willis Jeep, Skeff and Rene were married at West Butterwick Parish Church in July 1952.desperatelymissing him and died in August 2009 at an age of 82.
Skeff moved to live in West Butterwick at the Kirk family home, travelling to work at the garage in Burringham each day in the old Jeep or any other vehicle that the garage had available, until Skeff and Rene bought their first car, a rather well warn Ford Model C, it must have been a site to see, it had been stood in a farm yard long enough for the chickens to nest in it, never the less, Rene covered all the seats and replaced the headlining and door panels, while Skeff repaired and resprayed the bodywork then rebuilt the sidevalve engine.
In 1958 Andew was born and it was time to update the car, and the old Ford was traded in for a more up to date Morris Minor.
Skeff was married to Rene for just over 49 years, Skeff worked long hours in the earlier years to support his family, he retired in 1985 and cherished every day spent with Rene, a true partnership made in heaven, that lasted a further 15 years and came to a sudden end with Skeff's death in August 2000, Rene lived on for a further 9 years. 
Rene and Skeff are now re-united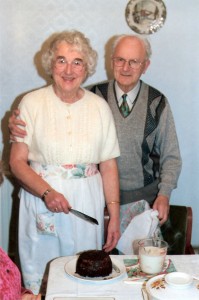 West Butterwick Methodist Church
Skeff's family attended the Anglican Church in Burringham and Skeff and his brother Tom talked about the times they were roped in to pump the bellows for the old organ.
Rene and Skeff were married at St Mary's anglican Church in West Butterwick, but Rene was a member of the Methodist Church and helped out in any way she was able, during his working life he supported her in this a much as he was able, during winter months he helped overcome a shortage of preachers by taking a film projector round the Churches in the area to show services recorded on 16 mm sound film, some Sundays he was out three times in the one day, with Rene by his side.
Once retired Skeff got involved with Rene in all the ativities at the Church in Butterwick, serving hot lunches on a Thursday through the winter, all kinds of fetching and carrying and general repairs.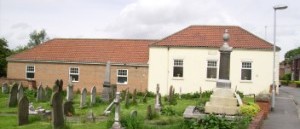 Click on the picture below for further details of West Butterwick Methodist Church today